Coconut Cream Pie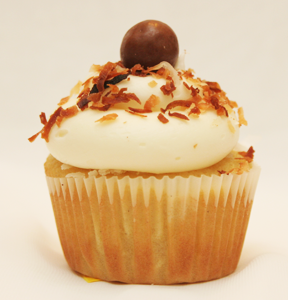 Sweet City Cupcakes "Coconut Cream Pie" is a classic vanilla cupcake made with pure Madagascar bourbon vanilla beans, filled with a dreamy coconut cream pie filling. Topped with our rich cream cheese frosting, toasted coconut, and a malt ball.  Mary-Ann from Gilligan's Island has nothing on this!
(toppings are subject to change due to seasonal available) 
We look forward to making a special cupcake delivery just for you!  Sweet City Cupcakes, 904-342-2119.